Both Solaris Yachts and their customer highly value the aesthetic aspects of their yachts. For this reason, the solar system had to be integrated almost invisibly and without major impact on the looks of the boat. On the other hand, the panels had to be large enough to be able to power all systems of the boat 24/7. Our ultralight solar panels, custom-made and mounted with innovative velcro flaps in the color of the bimini, are the perfect choice for such an installation:
Planning
In close cooperation with the bimini manufacturer we optimized the panel sizes according to the available space between the stainless steel tubing. Additionally, strings and bypass diodes have been optimized for the shade to be expected from the boom. In combination with two separate MPPT charge regulators (port and starboard) this allows for a maximum energy yield even if the boom partially covers the solar panels.
Installation
Solbian's innovative velcro flap installation consists of velcro strips – sewn to the laminate all-around on both sides of the panel – and textile flaps which are mounted to the bimini. These flaps close all sides of the solar panels and hold them firmly even in strong winds. In addition, this optically very pleasing installation method only needs 20mm of extra space around the panel, a lot less than zipper installations.
The only downside of this installation method is that it takes more effort to dismount it than with classic installations – therefore we only recommend it for yachts where the bimini stays put most of the season.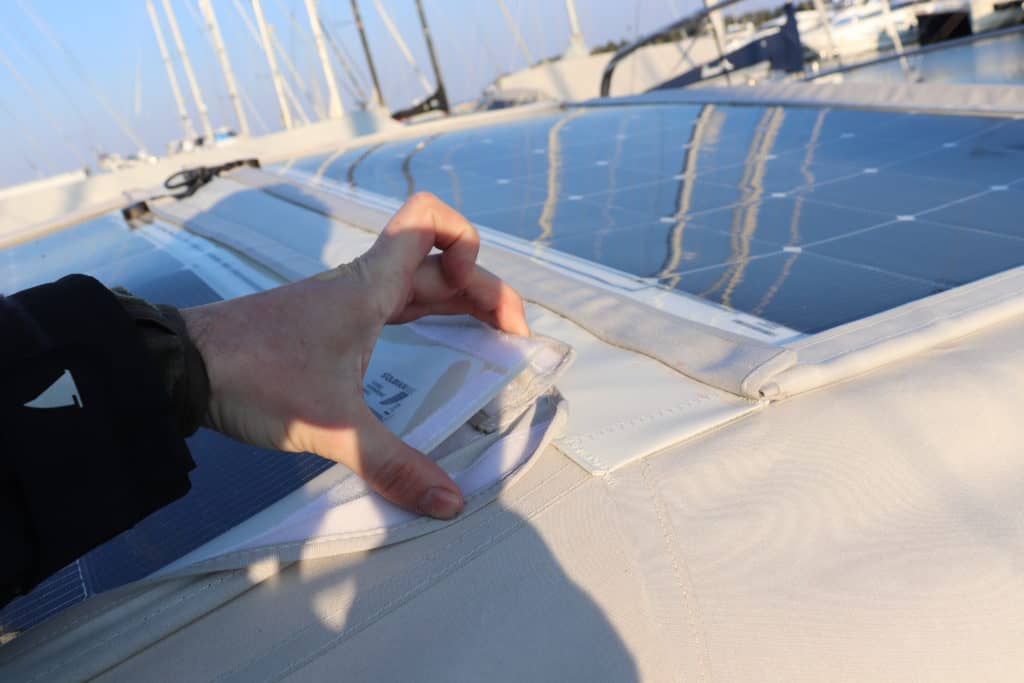 Wiring
Junction box positions have been optimized for short cable runs, connectors and wiring are hidden in textile channels. Short cables on the panels makes it easier to handle them and store them below mattresses. The majority of the wiring is textile-covered and fixed to the stainless steel tubing of the bimini. This allows the wires to be folded together with the structure when the panels are not installed.
Conclusion
A bimini solar system is the perfect solution to integrate solar panels in your yacht while keeping its aesthetic appearance. Big available surfaces allow for high energy yields even on small boats, lightweight material (apron. 2,1kg / m²) enables installation without modifying the stainless steel structure.
The Solaris 50 bimini-mounted solar system (694Wp) yields around 2.500-3.000Wh (190-230Ah @13V) per day, making the yacht completely energy-independent in most situations.
Links:
Solaris Yachts
Request form for your custom solar system