Flexible solar panels
Cell technologies matching every project requirement
SP series
Power at the highest level
Our top of the range panels with the most efficient cells currently available on the market (SunPower, 24% efficiency) – for maximum power on the smallest footprint.

High low-light efficiency and very good thermal coefficient.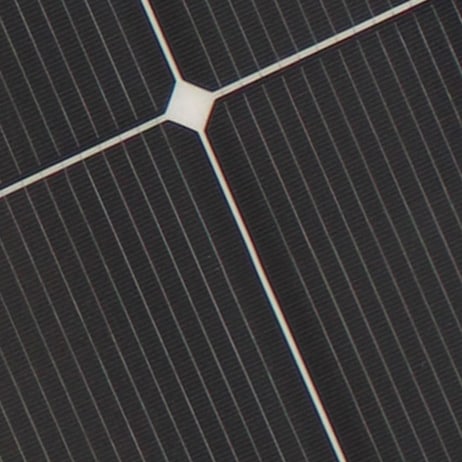 SXX series
Bifacial HJT cells
While looking similar to the SX series, SXX uses bifacial high-efficiency (>24%) HJT cells with extra-low temperature coefficient.

When used with transparent laminate and light on the backside, the SXX series' rear side can add another 90% to the power of the front. To be used for installations without high mechanical loads.
Highly efficient monocrystalline silicon cells (24%), embedded in two patented metallic grids to optimize both energy harvesting and mechanical stability.

Perfect for textile installations and highly stressed panels.
SX series
Aesthetics, reliability and price
Monocrystalline cells (>22% efficiency), electrically connected using ultra-thin copper wires that form a very fine mesh on the cell surface.

Highly competitive price, mostly used for installations without high mechanical stress such as caravans and architecture.
Custom shapes and sizes without extra charge
MOUNTING AND INSTALLATION
Our ultralight and flexible laminate opens new mounting possibilities
Installation
Zippers
Wind-proof installation on textile surfaces
A combination of zippers and velcro, permanently connected to the solar laminate and matching the color of textile surfaces.

Perfect for installations on textile structures, highly windproof and aesthetically pleasing.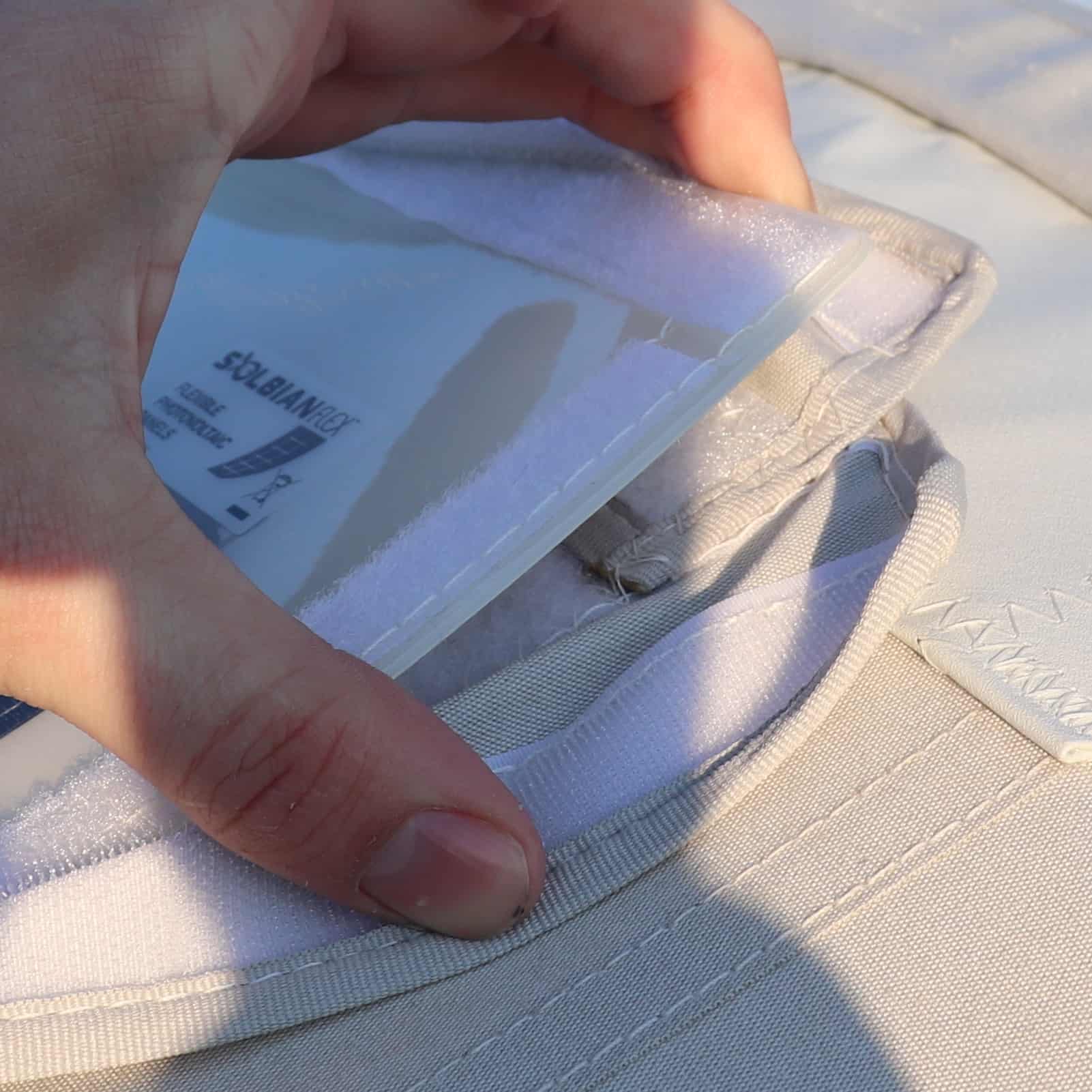 Velcro flaps
The most compact permanent installation on textile surfaces
Velcro flaps all-around the panel, holding the solar laminate from both top and bottom, matching the color of textile surfaces.

Perfect for installations on textile structures, highly windproof and aesthetically pleasing. Needs less space than zippers.
Pre-mounted adhesive
Walkable and permanent installation on yacht decks, caravan roofs, …
Pre-mounted adhesive for permanent walkable installations on rigid surfaces.

Industry-grade acrylate adhesive with a foam backing to distribute forces and thermal expansion ensures a reliable and waterproof connection, e.g. with yacht decks and caravan roofs.
LOXX quick-connect
Versatile solution for temporary installation on textile and rigid surfaces
LOXX quick-connect mounts allow a quick and reliable connection to a variety of materials.

Mostly used for temporary installations on textile surfaces, adapters for rigid surfaces and metric threads are available as well.
Stainless steel eyelets
For temporary installation with ropes or cable ties
Stainless steel eyelets are a versatile mounting option, they allow the panel to be flexibly placed and mounted with cable ties or ropes.

Can also be combined with LOXX quick-connect mounts.
Connection
Rear wires
For invisible and perfectly waterproof wire connection
Our innovative rear wire solution creates an invisible, waterproof and perfectly protected connection below the solar panels.

Combined with pre-mounted adhesive this connection system creates perfectly integrated walkable solar systems.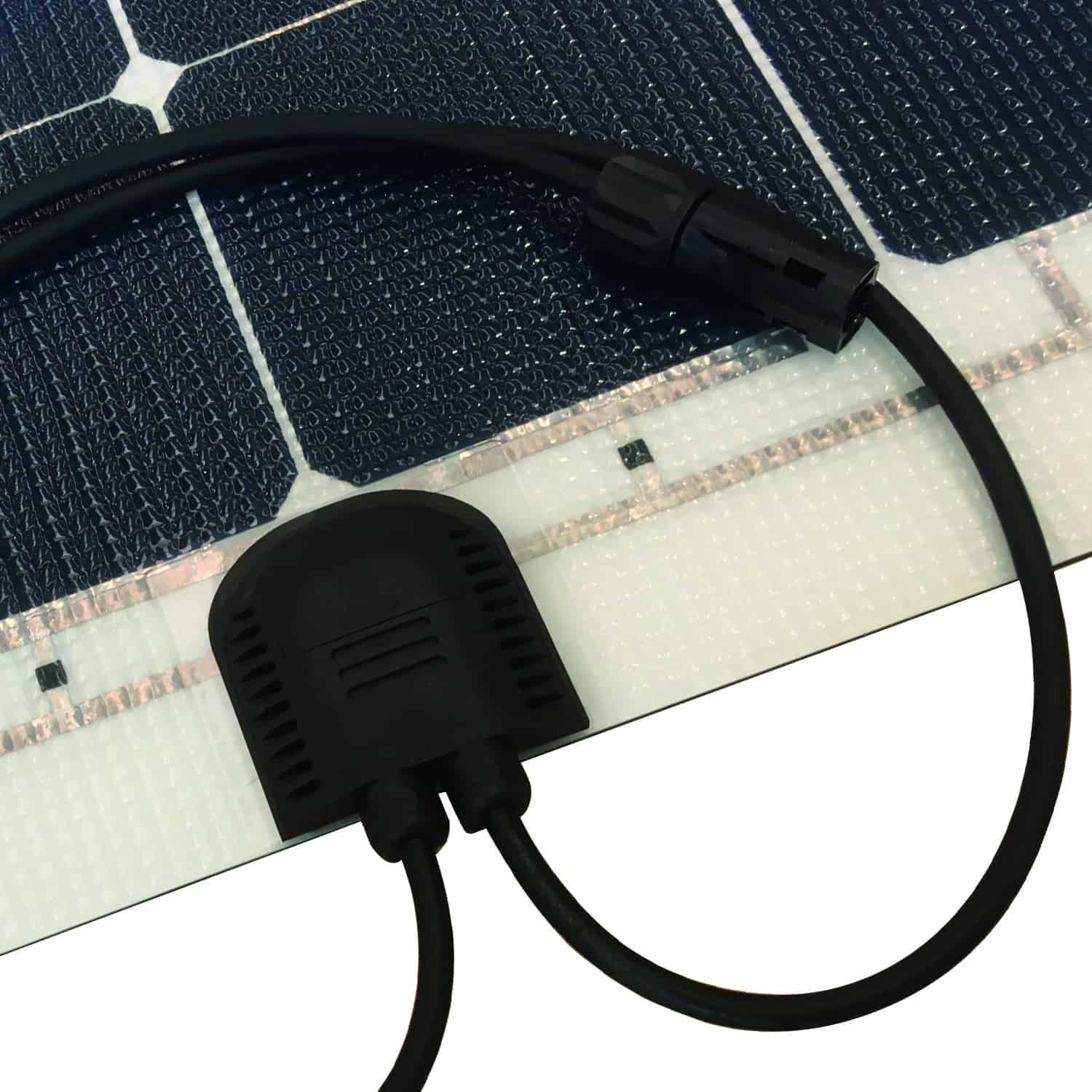 Junction box
Resin-potted connection box with waterproof MC4 connectors
Connection boxes on the front or back of solar panels (different types available) allow a quick and waterproof external connection using MC4 connectors.

All electronics inside are resin-potted for a long-lasting and reliable connection.
ALLinONE regulator
Panel-integrated MPPT regulator – simply connect to the battery
Our flexible solar panels, extended through integrated high-efficiency MPPT charge regulators. Simply connect directly to the battery, can be combined with other ALLinONE panels in parallel.
Soldering ribbons
Like rear wires, for very narrow spaces
Works like the rear cables, needing even less space below the panels.

Installation is more complicated, additional insulation and mechanical protection needed choose rear wires whenever possible.
Charge regulators
Modern MPPT technology for perfectly charging your batteries
Together with your solar system we deliver efficient MPPT charge regulators – perfectly matched and programmed for your solar and battery system.

Systems for all voltages and battery technologies available.
Surface
Standard
Glossy surface – easy to clean, slippery when wet
Highly resistant glossy surface. Optically pleasing and practically self-cleaning through rain.

Can be slippery when wet, used for installations which are not being walked too often.
Matte
Smooth surface with matte non-reflective finish
Highly resistant matte surface. Non-reflective and practically self-cleaning through rain. Very well suited for pigmented ISP series finishes.

Can be slippery when wet, used for installations which are not being walked too often.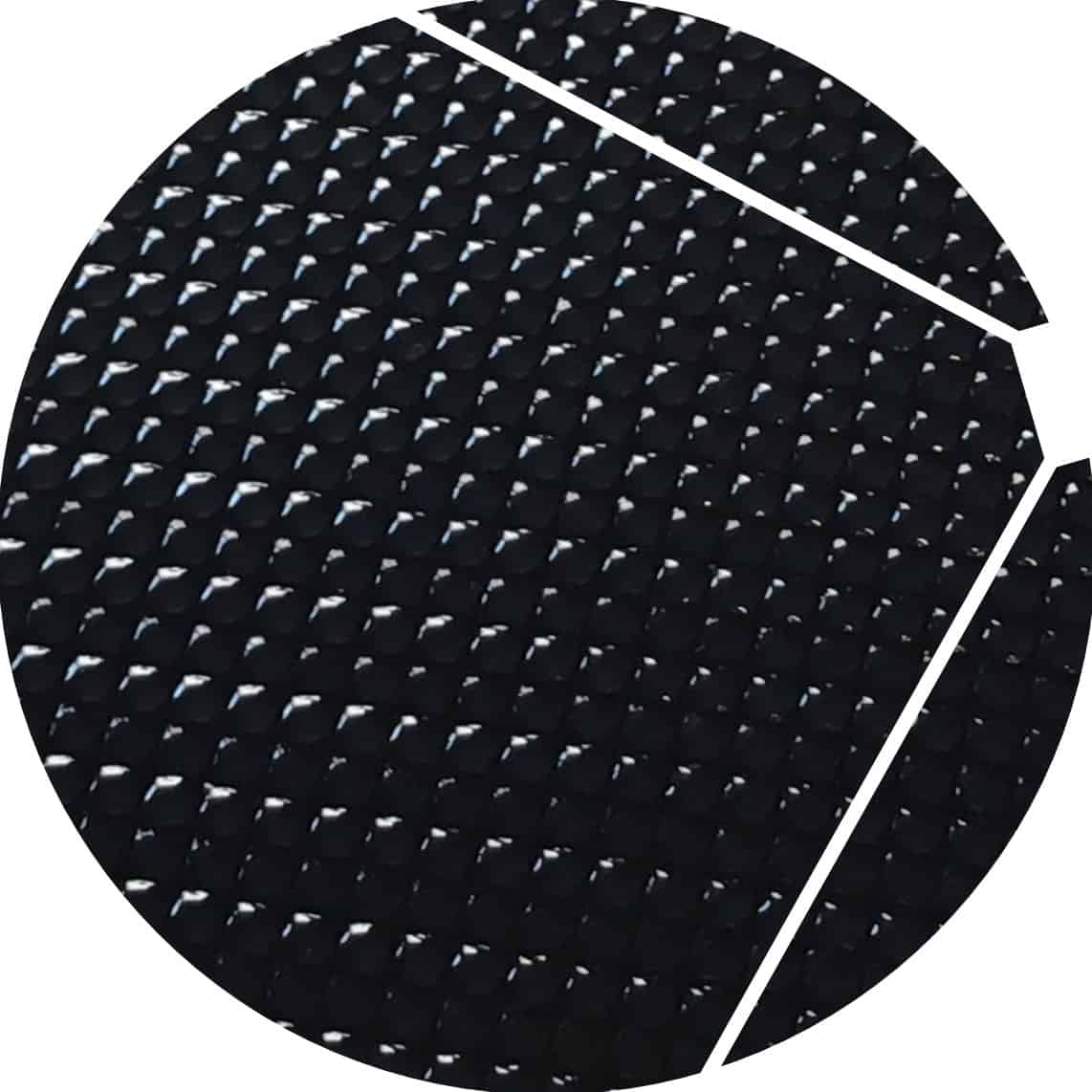 Nonskid
Special lens structure for better grip on wet surface – no power losses
Even more resistant, our structured anti skid surface forms thousands of small lenses, allowing water to exit through small channels below the soles.

Less slippery with the same power – perfect for walkable installations. Should be cleaned regularly with plain water.
Backsheet Color
Choose between white, black or transparent laminate
Alternatively to our standard white laminate you are free to choose black or transparent base material.

Black is perfect for hiding the solar cells and integrating the system in designs using special panel shapes. Interconnection ribbons can be covered to create completely black panels.
iSP series
Invisible solar systems with pigmented front sheet – customizable
The iSP series uses a patented technology to pigment the panel's frontsheet.

With little power loss, this allows to hide the cells and create solar systems looking like teak decks, company logos or textile surfaces.
Contact us!
Let us guide you on the way to your personal solar system